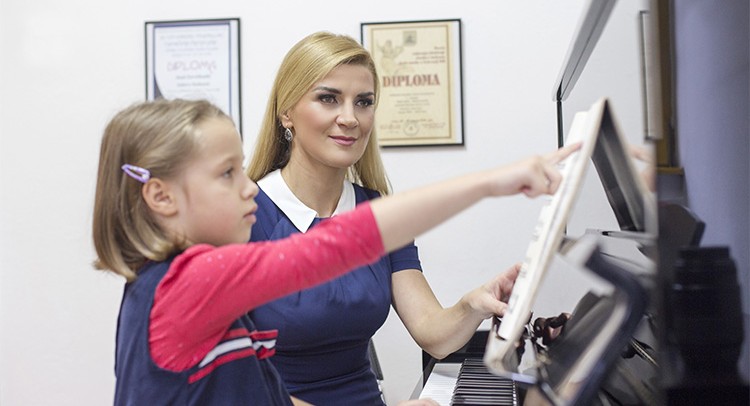 Students have an option to choose between two piano studies: ABRSM (with exams or assessments) or Bosnian-Herzegovinian piano education diplomas.
ABRSM (The Associated Board of the Royal Schools of Music) is the world's leading provider of music exams and assessments and the UK's largest music education body.  Each year over 630,000 candidates take ABRSM exams in more than 90 countries around the world. Established in 1889, the Board now draws on a unique resource: its 120 years of experience and expertise.  Since its establishment, ABRSM has provided music educators, pupils and parents with exams and assessments that promote consistent standards and carry recognized international authority, encouraging and motivating performers through the provision of goals and the measurement of progress.
ABRSM's mission is to inspire achievement in music, supporting high-quality music-making and learning around the world.
Students can start with the Prep Test and then work through all eight grades for Piano. Candidates also have possibility to enter in any grade irrespective of age and without previously having taken any other grade in Piano. Candidates for a Grade 6, 7 or 8 exam must already have passed ABRSM Grade 5 (or above) in Music Theory, Practical Musicianship or a solo Jazz subject. Please visit official web page.
Also, Piano.ba offers specially developed Program Piccolo, for the youngest students, ages 5 to 7. Lessons can be delivered individually or in small groups.
Other interesting concept of learning to play piano is our unique program of piano lessons "Mommy and Me", where pupils age 4 to 6 learn to play piano in pair with a parent. This is an opportunity to devote your time to yourself and your child and in creative way learn something new. Throughout the activities of our program the child receives a message that a parent shares the same interest – piano playing will connect you, strengthen the mutual sense of closeness, trust and pleasure.
The most successful candidates will be invited to participate at piano competitions, concerts, masterclasses and other invents.